Ship Pics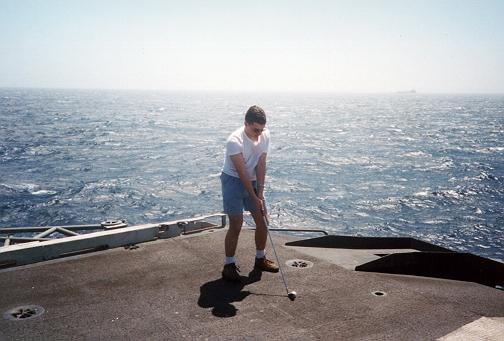 Golfing off the fantail during a steel beach picnic, somewhere in the Pacific
USS Arizona Memorial Front of the Arizona Memorial, Pearl Harbor, HI. Taken June, 1996.
USS Arizona Memorial Parts of the submerged ship that can be seen at and below the surface.
USS Arizona Memorial A stone wall honoring those who went down with the ship.
USS Independence On Pier 12 at Naval Station Yokosuka, Japan. This is where the ship was homeported during my 3 years onboard.
USS Independence Anchored in Hong Kong
USS Independence Anchored in Pattaya Beach, Thailand
C-2A Greyhound Landing on the Indy. Don't believe the "experts". THIS is the most important plane in the fleet. Why? It brings the mail. :o)
Steel Beach Picnic On occasion, we'd take a day off while at sea and throw a party on the flight deck.
USS Alabama Looking back from the bow
USS Alabama Me, contemplating the good reasons why I didn't become a gunner's mate.
---

Page last modified 31 December, 2003