Guam
Background:
I-G1 is my idea for a roughly 21.6 mile long "Interstate highway" on Guam, connecting the two largest military facilities on the island: Anderson Air Force Base and Naval Base Guam. The Interstate would also serve populated areas through the central part of the island and connect to Guam International Airport.
My fictional I-G1 would be a 4-lane Interstate, beginning at the main gate of the Naval Base and running east-northeastward, generally parallel to and south of GU 1 (Marine Corps Drive...the existing route between the two bases and the busiest road on the island). There would be 11 interchanges along the corridor, generally at major intersecting roads.
Map/Routing: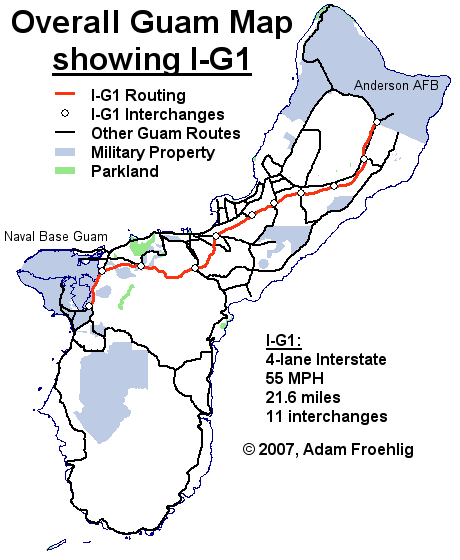 This map shows the overall location of Fictional I-G1 on Guam, as well as in relation to other signed Guam routes.
Route Log:
| | | |
| --- | --- | --- |
| Milepost | Cross-street or feature | Access |
| 0.0 | Naval Base Guam main gate | None (NOTE: traffic on the Naval Base is restricted to military traffic only) |
| 0.2 | GU 2A | Interchange |
| 2.2 | GU 1 NORTH | Interchange |
| 4.4 | TO GU 6/Nimitz Hill | Interchange |
| 7.7 | GU 4 | Interchange |
| 9.9 | GU 8 | Interchange |
| 12.1 | GU 10A/Airport | Interchange |
| 13.5 | GU 16 | Interchange |
| 15.1 | GU 26 | Interchange |
| 16.9 | TO GU 1/West Yigo | Interchange |
| 19.3 | GU 29 | Interchange |
| 21.4 | GU 1 SOUTH/GU 9 | Interchange |
| 21.6 | Anderson AFB main gate | None (NOTE: traffic on the Naval Base is restricted to military traffic only) |
Links (some under development):
A VIRTUAL CRUISE of northbound I-G1
A VIRTUAL CRUISE of southbound I-G1
Exit List of Fictional I-G1
Back to Fictional Freeways
Back to Magnolia Meanderings
Last Updated: 24 August, 2007
(C) 2007 Adam Froehlig