MN 100/CSAH 9/CSAH 81 Robbinsdale Aerial Image
These images are courtesy of the National Agriculture Imagery Program, a program of the U.S. Department of Agriculture, and were taken in 2005.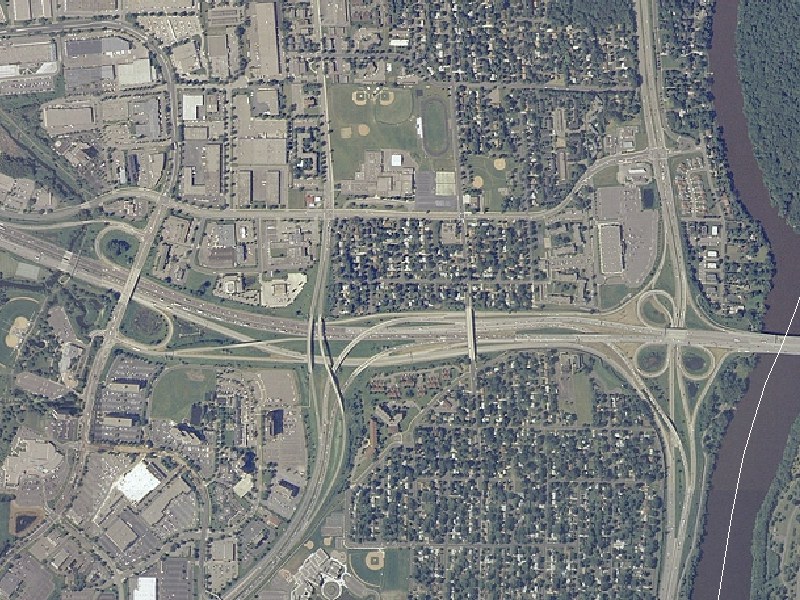 This view, at 10-feet-per-pixel resolution, shows the I-94/I-694/MN 100/MN 252 interchange area in Brooklyn Center. The Mississippi River runs along the right edge. I-694 runs east-west. I-94 duplexes with I-694 from the west, then follows the river to the south. MN 100 comes up from the south and ends at I-694, with the roadway continuing north as Humboldt Ave. MN 252 runs north along the river from the I-94/694 junction. Shingle Creek Pkwy runs along the west edge. Freeway Blvd/65th Ave N parallels I-694 to the north. The white line in the river is the Hennepin/Anoka County Line.
This area has seen 3 notable changes over the past 50 years. First was the construction of I-694 and I-94 to the west. This construction added the interchange at I-94/694/MN 252 and realigned MN 100 onto more or less its present alignment. Previously, MN 100 continued northeast, then turned east to cross the river where I-694 crosses today. If you look east of MN 100 and south of I-94/694, there's a southwest-northeast running street that formed the south end of the old MN 100 right-of-way.
The second change took place in the early 1980s, in conjunction with the completion of I-94 through North Minneapolis. The Shingle Creek Pkwy interchange was added, replacing a half-diamond interchange at Xerxes Ave just off the left edge of the photo. The MN 100 interchange was also changed, from a folded-diamond interchange to the current configuration, with connections to I-694 EAST (but not I-94), MN 252, and Humboldt Ave. I-94 and I-694 were also separated, with the eastbound split just west of Shingle Creek Pkwy and the westbound merge after the ramp to MN 100. Lastly, the loop ramp from SB MN 252 to EB I-694 was grade-separated from the WB I-694 to EB I-94 loop ramp.
The third change happened in the late 1980s, when the I-694 bridge over the Mississippi River was widened to 10 lanes as part of an I-694 reconstruction and widening project.
---
Return to Twin Cites Aerial Images
Return to Twin Cities Highways


Page last modified 20 May, 2008