I-94(694)/I-494 Maple Grove Aerial Image
These images are courtesy of the National Agriculture Imagery Program, a program of the U.S. Department of Agriculture, and were taken in 2006.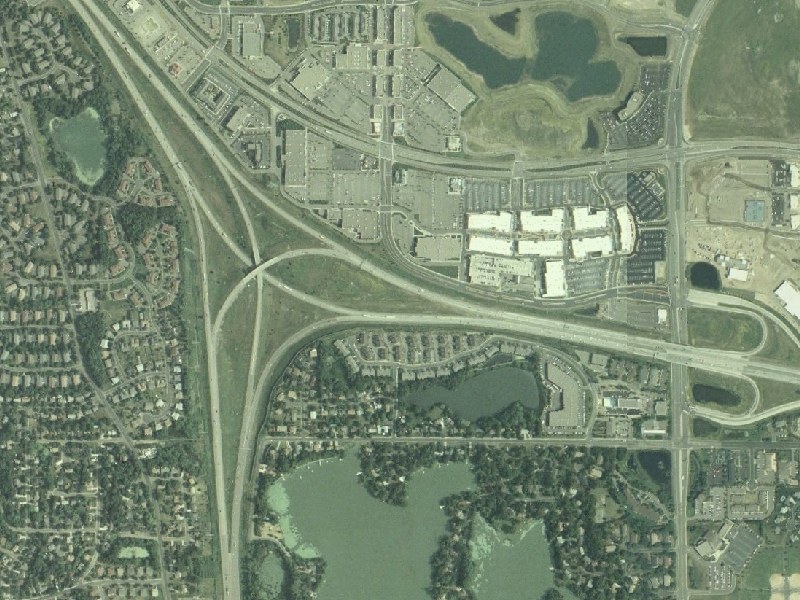 This view, at 9-feet-per-pixel resolution, is a close-up of the I-94(694)/I-494 "3-way directional stack" in Maple Grove, also locally known as the "Fish Lake Interchange". I-94 runs northwest-to-east, I-494 runs south, and I-694 runs east duplexed with I-94. CSAH 61/Hemlock Ln is the north-south road on the right side of the photo, and CSAH 130 is the east-west road paralleling I-94 to the north.
Of note is the development on the north side of I-94. The development nearest the Fish Lake Interchange is related to Maple Grove's "Town Center", which was developed in the early 2000s. Additional development has occurred since then, spreading east. Compare the above image to this Microsoft Terraserver image from 1994 or this Google Earth image from ca. 2002.
MnDOT completed a widening of I-94/694 to the east of the Fish Lake Interchange in 2005. Long-range plans call for widening both I-494 to the south and I-94 to the northwest and reconstructing the Fish Lake Interchange.
---
Return to Twin Cites Aerial Images
Return to Twin Cities Highways


Page last modified 25 April, 2008