I-35E/I-494 Eagan Aerial Image
These images are courtesy of the National Agriculture Imagery Program, a program of the U.S. Department of Agriculture, and were taken in 2006.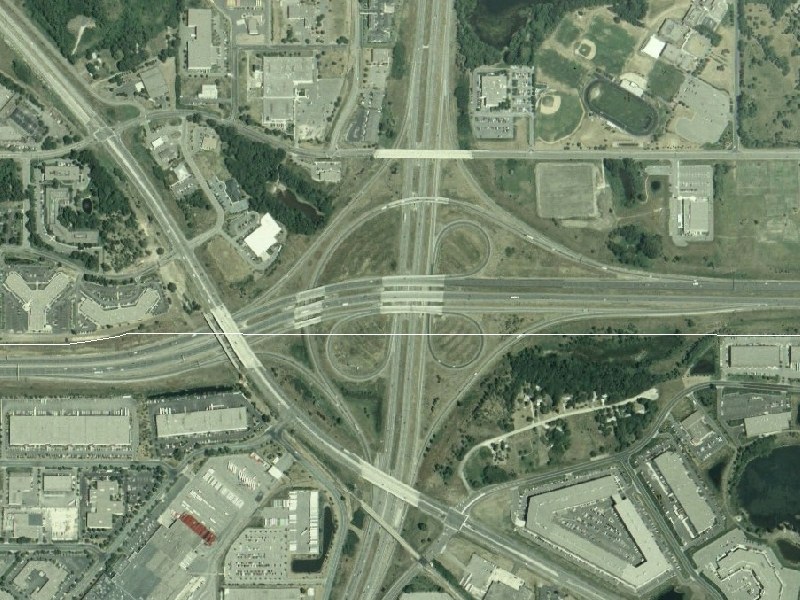 This view, at roughly 7.5-feet-per-pixel resolution, shows the I-35E/I-494 interchange in Eagan (south) and Mendota Heights (north). The Eagan/Mendota Heights city line is delineated by the white line running east-west through the middle. I-494 runs east-west. I-35E runs north-south. MN 55 runs northwest-southeast, while Mendota Heights Rd is the surface road that parallels I-494 to the north.
The I-35E/I-494 interchange was the last major interchange to be completed along the I-494/694 beltway, opening up in late 1986 in conjunction with the completion of I-494 to the east. Both I-35E through the interchange and I-494 to the west of MN 55 were completed previously, with I-35E opening in late 1984 and I-494 having a temporary connection to MN 55 (but not I-35E) in 1982.
You can easily tell the difference that 25 years of engineering and operations have made, as this interchange includes C/D roads (on EB 494 and NB 35E) and a flyover ramp, much unlike the similar (but 1959-era) I-35W/I-494 interchange in Bloomington.
Earlier proposals for this interchange included some ramps connecting to MN 55, and a grander proposal even included a MN 55 freeway paralleling I-494 for a short distance to the east before returning to existing MN 55. A graphic showing this grand idea is shown here. Ultimately, the large interchange was reduced in size and scope, the MN 55 freeway proposal was dropped, and access to MN 55 was constructed via the I-494/MN 149 interchange about 3/4 mile east of here.
---
Return to Twin Cites Aerial Images
Return to Twin Cities Highways


Page last modified 25 April, 2008