I-394/MN 100 Golden Valley Aerial Image
These images are courtesy of the National Agriculture Imagery Program, a program of the U.S. Department of Agriculture, and were taken in 2005.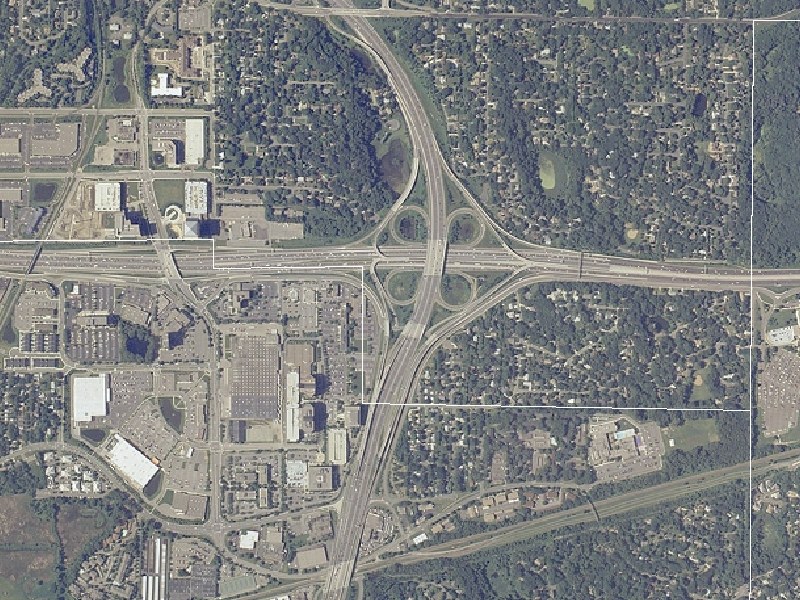 This view, at 10-feet-per-pixel resolution, shows the I-394/MN 100 interchange area in Golden Valley and St. Louis Park. I-394 runs east-west, while MN 100 runs north south. Glenwood Ave/CSAH 40 is along the top edge of the image, while Park Place/Xenia Ave runs north south west of MN 100. The St. Louis Park(south)/Golden Valley(north) border is the white line running left-to-right through the image, while the Minneapolis city line is the white line along the far right edge.
This interchange was upgraded in the early 1990s as part of the construction of I-394. The original interchange at then-US 12/MN 100 was a simple cloverleaf dating from the late 1930s, with narrow ramps, non-existing acceleration/deceleration lanes, and US 12 bridging over MN 100. 3 years of construction changed things to the current configuration. The basic interchange layout is still a cloverleaf, but with several additions: MN 100 bridging over I-394, C/D roads on both sides of I-394 and southbound MN 100, and direct ramps between the I-394 Reversible Lanes and both directions of MN 100 as well as the south frontage road. Though I-394 traffic is still choked here...there are only 2 through lanes in each direction on mainline I-394 through the interchange...it is a vast improvement over the original, pre-Interstate configuration.
This map, at 5-feet-per-pixel resolution, is a zoom-in of the I-394/MN 100 interchange proper, and shows some of the interchange ramp detail better than the first image.
---
Return to Twin Cites Aerial Images
Return to Twin Cities Highways


Page last modified 20 May, 2008