MN 100/CSAH 9/CSAH 81 Robbinsdale Aerial Image
These images are courtesy of the National Agriculture Imagery Program, a program of the U.S. Department of Agriculture, and were taken in 2005.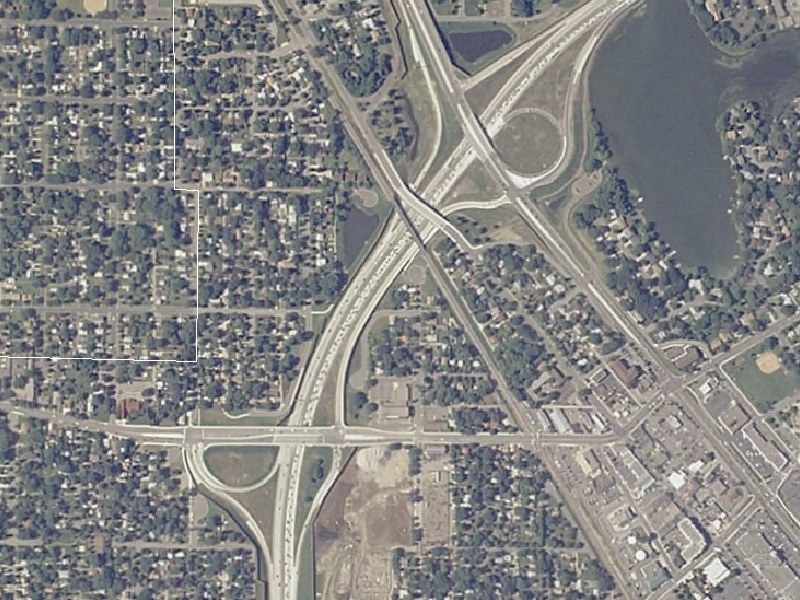 This view, at 6-feet-per-pixel resolution, shows the newly reconstructed MN 100/CSAH 9/CSAH 81 area in Golden Valley. MN 100 runs south-to-northeast, CSAH 9/42nd Ave N runs east-west, and CSAH 81 runs southeast-northwest.
Prior to the 2002-2004 MN 100 reconstruction project, MN 100 was a 4-lane expressway through this area, with an at-grade intersection at CSAH 81 and a 3/4 diamond at CSAH 9/42nd Ave N. The missing ramp at CSAH 9 was a southbound off-ramp...this movement was instead served by a right-in/right-out on the southbound side at 43rd Ave N.
The MN 100 reconstruction project, part of a plan to turn MN 100 into a full freeway, made several changes to the area. First off, MN 100 was widened to 6 lanes south of CSAH 81. Second, the CSAH 9 interchange was revised into a partial folded-diamond, with a southbound off-loop. Due to the proximity between CSAH 9 and CSAH 81, a northbound connector road was built between CSAH 9 and CSAH 81. The former CSAH 81 intersection was upgraded into a 3/4 interchange, with diamond ramps to/from MN 100 north, and a direct ramp and loop favoring traffic between MN 100 SOUTH and CSAH 81 NORTH. All pavement and former bridges were fully replaced.
---
Return to Twin Cites Aerial Images
Return to Twin Cities Highways


Page last modified 20 May, 2008