MN 100/MN 55 Golden Valley Aerial Image
These images are courtesy of the National Agriculture Imagery Program, a program of the U.S. Department of Agriculture, and were taken in 2005.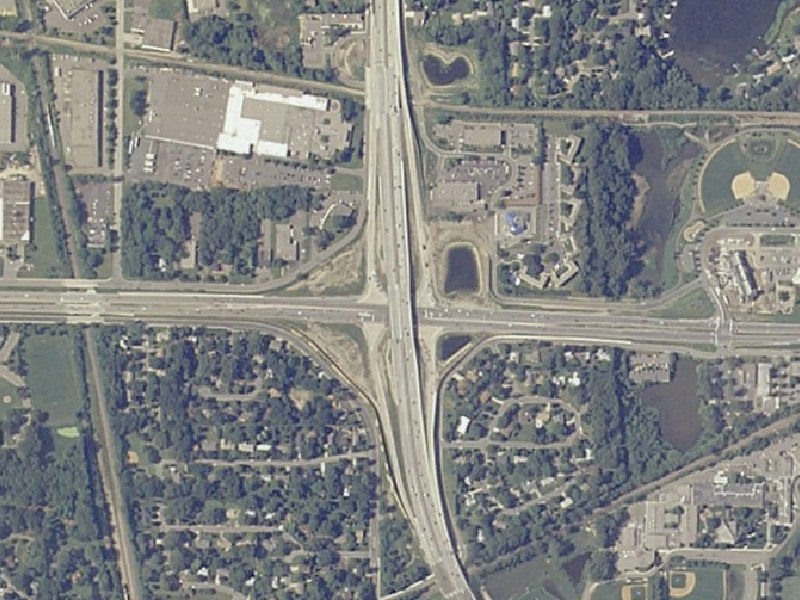 This view, at 5.5-feet-per-pixel resolution, shows the newly reconstructed MN 100/MN 55 interchange in Golden Valley. MN 100 runs north-south, while MN 55 runs east-west.
The original interchange was a cloverleaf interchange dating from the late 1930s that had tight narrow ramps and curves and minimal acceleration/deceleration lanes. Evidence of the original configuration remains in the placement of the frontage roads in 3 of the 4 interchange quadrants, especially the two western quadrants. There were also right-in/right-out intersections on MN 100 north of the interchange.
In 2001-2002, the interchange was reconstructed as part of the MN 100 reconstruction project. This represented an upgrade, and in one way a downgrade, of the interchange. The right-in/right-out intersections (and traffic signals further north) along MN 100 as part of its upgrade to full freeway. Full shoulders and a 3rd lane in each direction were added to MN 100. Replacing the antiquated cloverleaf is a modern Single-point Urban Interchange (SPUI for short). The "downgrade" is in the sense that an additional traffic signal was added to MN 55, which already has several traffic signals impacting traffic.
---
Return to Twin Cites Aerial Images
Return to Twin Cities Highways


Page last modified 20 May, 2008