Background:
This fictional highway is a hodgepodge of multiple elements overlaid along the existing highway. Some of the routing is based on proposals from the 1960s and early 1970s, while the freeway-grade portions are largely my own idea.
Starting at the southwest end, fictional VA 165 will follow the planned rerouting/relocation of Cedar Rd between BUSINESS US 17/George Washington Hwy and US 17/Dominion Blvd. While this routing is planned in real life, it may not necessarily be expressway. Fictional VA 165 will be an expressway through here, then transition to the existing urban boulevard east of Dominion Blvd.
The segment from near Waters Rd to east of Centerville Turnpike, bypassing Great Bridge to the south, is based on a 1960s-era proposal for a "Southern Chesapeake Bypass". This proposal lingered into the late '80s, but has died due to heavy development of land in and around the Great Bridge area. Fictional VA 165 follows the rough path of this bypass proposal, utilizing existing Hanbury Rd and Etheridge Manor Blvd. A short segment from Centerville Turnpike to Mount Pleasant Rd will be fictional freeway. Interchanges would be located at Waters Rd, Johnstown Rd, Centerville Turnpike South, and Centerville Turnpike North.
From this point (east of Centerville Tunrpike) to the Intracoastal Waterway, fictional VA 165 follows the existing alignment and is upgraded to expressway. Starting at the Waterway, fictional VA 165 crosses the Waterway on a new bridge and follows a new routing, based in part on proposals for a North Landing Rd realignment that would tie into the proposed Nimmo Pkwy. Fictional VA 165 would utilize this routing as a freeway, and this freeway would continue northwest along Princess Anne Rd up to Ferrell Pkwy. This fictional freeway has interchanges at Indian River Rd, Nimmo Pkwy/West Neck Rd (Nimmo Pkwy is fictional VA 149), Fictional VA 528 (the real-life-proposed Southeastern Parkway), Dam Neck Rd, Concert Dr (partial interchange to/from the north), Independence Blvd South, and at Fictional VA 225/Fictional VA 407.
At this point, fictional VA 165 transitions to the existing at-grade Princess Anne Rd north of Salem Rd and remains in its existing configuration except for four locations:
A) near Kempsville Rd/Witchduck Rd, fictional VA 165 would follow the planned rerouting of Princess Anne Rd here, except that instead of the planned intersection, there would be a fictional interchange instead.
B) Fictional VA 165 would be removed from Kempsville Rd between US 58/Virginia Beach Blvd and US 13/Northampton Blvd. Fictional VA 165 would instead be rerouted onto US 58/Virginia Beach Blvd and US 13/Military Hwy.
C) There is a real-life proposal to build a single-point-interchange at Military Hwy and Princess Anne Rd/Northampton Blvd. Fictional VA 165 follows Military Hwy through this interchange.
D) Based on an early '70s proposal, an overpass/interchange would be built connecting Military Hwy with Little Creek Rd to the west. The overpass would pass over VA 170/Little Creek Rd East and VA 194/Chesapeake Blvd.
Map/Routing:
This map shows the location of my VA 165 fictional highway overlaid on a modern-day map. Total length is about 40 miles. Blue represents a freeway-grade routing, while orange represents urban expressway and the teal-color represents urban boulevard.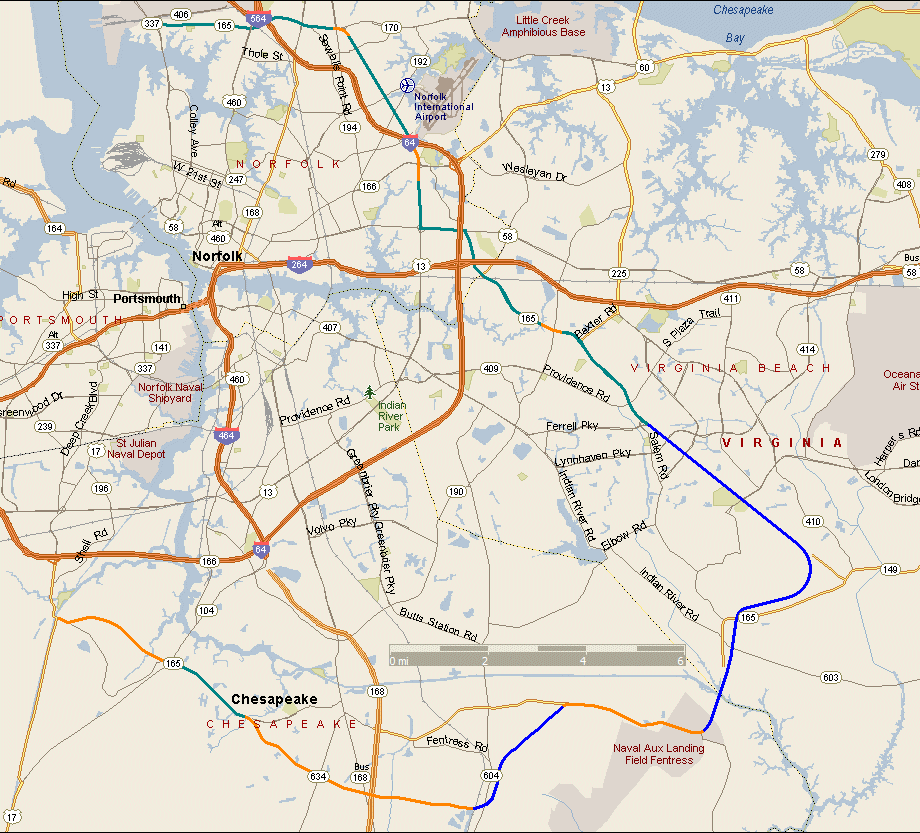 Links (under development):
A VIRTUAL CRUISE of east/northbound VA 165
A VIRTUAL CRUISE of south/westbound VA 165
Basic Exit List
Back to Fictional Freeways
Back to Magnolia Meanderings
Last Updated: November 17, 2004
(C) 2004 Adam Froehlig