I-35W/MN 36/MN 280 - Roseville
As a general rule, the I-35W/MN 36/MN 280 interchange area is a fairly good area. C/D roads and additional lanes between MN 280 and MN 36 help keep traffic moving along the I-35W mainline. However, traffic volumes today are to the point where this area is seeing ever increasing congestion.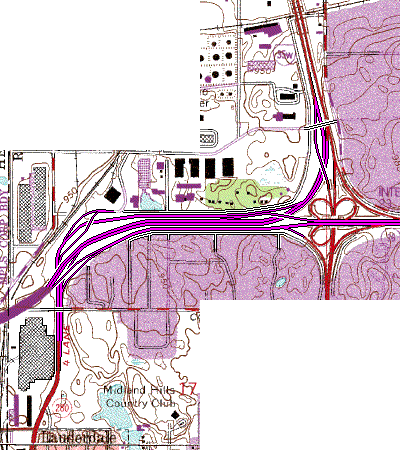 I-35W goes from southwest to north. MN 36 starts at I-35W and runs east, while MN 280 runs south near the western edge of the map. Cleveland Ave runs from the I-35W/MN 36 interchange south.
As with most Twin Cities bottlenecks, a lack of through lanes hinders performance along I-35W in this area. Joining them together and improving the 50 MPH curve at the MN 36 interchange are two improvements, along with at least 3 (and preferably 4) lanes each direction help the flow along I-35W. A slight shift of the westbound collector-distributor road helps with the spacing. Separation of I-35W and MN 36 eastbound through the area would help avoid any of the last minute weaves and lane shifts that currently exist in that area. The left-hand exit on southbound I-35W to MN 36/Cleveland Ave is replaced by a right-hand exit. And down on MN 280, an overpass at County Road B does restrict access, but improves traffic flow along 280 by removing the currently-existing stoplight. The proximity of that large industrial plant to the 280 mainline may cause problems regarding future improvements to 280.
It was suggested to me that I should include a flyover ramp for SB I-35W to EB MN 36 traffic. I'll consider this but did not include it at this time due to ROW and construction costs.
---
Return to Twin Cities Interchange Upgrade Ideas
Return to Froggie's Rantings
Return to Twin Cites Highways


Page last modified 24 May, 2008