I-694/US 10/MN 51 - Arden Hills
The current I-694/US 10 WEST/MN 51 interchange area, suffice it to say, is a mess. Closely spaced ramps, substandard interchange design, and the weaving problem to stay on I-694 all contribute to congestion in this area. Partially because of the weaving required to stay on I-694, the area is the scene of many accidents, including fatal accidents. One of these unfortunate fatal accidents occurred in August 1999, involving a group of outstate Minnesota teenagers returning from events at the Minnesota State Fair.
Here is my idea for fixing the area. On the map, I-694 runs east-west, MN 51 comes in from the south, and US 10 goes off the northwest corner of the map and follows I-694 east. Hamline Ave continues north from the I-694/MN 51 interchange, while Lexington Ave is the north-south street on the right side of the map. Snail Lake Blvd starts on Hamline Ave just north of the I-694 interchange, and runs east.
I-694 needs more through lanes through the area, so I would reconstruct the mainline to accommodate 3 lanes each direction. I use a collector-distributor sort of concept to keep the MN 51-US 10 traffic off the mainline as much as possible. Improvements to Lexington Ave and Snail Lake Blvd should be enough to allow removal of the nasty ramps between I-694 and Hamline Ave. To accommodate additional traffic from this at the I-694/Lexington Ave interchange, I have upgraded the interchange to a Single-Point Urban design. This design also removes all of the left-hand exits and entrances, and should take up very little, if any, additional Right-Of-Way. This design would also allow for possible wetland mitigation in the area just above the "42" on the "Interchange 42" noted on the map.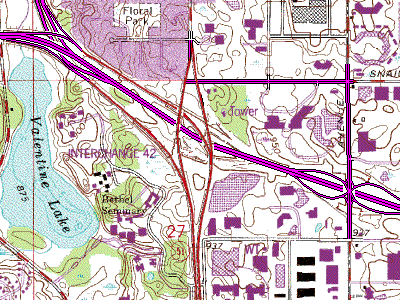 Here is an alternative to the above map. The main differences is that this one would retain some of the original alignments and ramps, to cut down on construction costs. The downside is that not as much wetland mitigation is allowable with this option.
---
Return to Twin Cities Interchange Upgrade Ideas
Return to Froggie's Rantings
Return to Twin Cites Highways


Page last modified 24 May, 2008