Post-Katrina Photos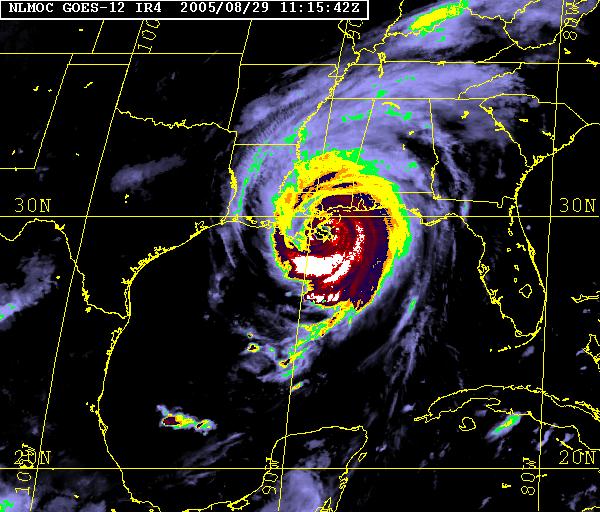 NLMOC's Enhanced infrared satellite image from 8/29/05, 0615 CDT, about 5 minutes after Hurricane Katrina's official landfall in Plaquemines Parish, LA (per the National Hurricane Center)
These two pages display photos I took of area damage and cleanup efforts after Hurricane Katrina's landfall on the Gulf Coast in late August. I had transferred to Stennis Space Center barely two weeks before the storm hit, and chose to evacuate north rather than ride out the storm in the area. The weekend after I returned to Picayune, MS, I took a walk around town to view some of the damage and take photos, as displayed below. I also have photos of damage in Slidell, including examples of what the water and flooding did to houses (my supervisor's house in particular).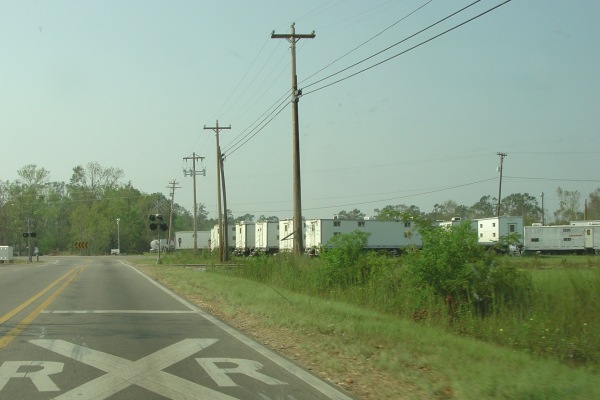 Something only rarely seen nowadays, US 11 near the curve in Nicholson has become a "railroad town". The trailers house workers who are making repairs to the Norfolk-Southern RR line leading into New Orleans (the RR crossing in the photos is a spur off that NS track, not the mainline). Photo taken 9/20/05 by the webmaster.
The photographs on these pages are the exclusive property of the webmaster, and are intended for private use and viewing only. NO COMMERCIAL USE is sanctioned.

Page last modified 04 October, 2005
(C) 2005, Adam Froehlig