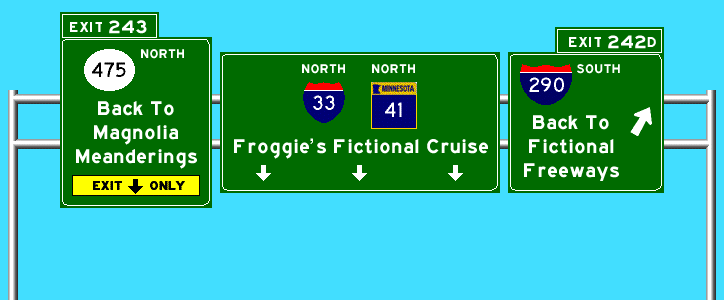 Welcome to Froggie's Fictional Cruise. Modeled loosely after Trippy Drive and the Wisconsin Cruise, this site shows viewers a virtual/visual depiction of roadway signs along the various Fictional Freeways that I and others have created. These views are primarily recreational/research/theoretical in nature, and are not supposed to reflect actual guide signage along real-life highways. This page is the brainchild of the author, and is not endorsed by any governmental agency, so don't expect them to build anything that I propose here. :o)
To continue along a given route, click on the guide sign display for the route in question. If the page exists, the embedded hyperlink will bring you to the new page and "signage". Text hyperlinks will also be available at the bottom of each page.
This is a temporary location for the routes listed below. Eventually, the following "cruises" will be incorporated into fictional freeway pages on these routes.
The list of available routes:
I-28 Eastbound (Corinth, MS to Interstate 59)
I-57 Northbound (Meridian, MS to Corinth, MS)
I-59 Northbound (Slidell, LA to Picayune, MS)
I-128 Eastbound (Huntsville, AL to Interstate 24)
I-210 Northbound (Mobile, AL outer loop)
I-259 Eastbound (Meridian, MS south bypass)

Last Updated August 18, 2003
(C) 2003 Adam Froehlig