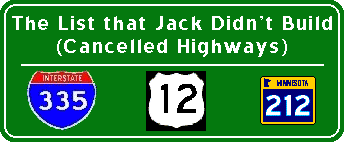 About This Site
Like most major metropolitan areas, the Twin Cities has more than its fair share of expressways and freeways that were planned, but due to some reason or another (usually money or opposition), were never built. A fair number of these routes were radials that would have gone through higher-density areas within Minneapolis and St. Paul. In fact, of the 20 radials planned from the downtown Minneapolis and downtown St. Paul cores (combined), half weren't built. Two major routes that would have formed an inner loop and a partial outer loop of downtown Minneapolis also were never built. Some routes were slated for freeway upgrades, but never got them. Even on those routes (primarily expressways) that did get built, there were many planned interchange locations that wound up becoming intersections instead. Only a few of these problem areas are now, 35+ years later, planned for improvements.
Here is a map I've created showing the cancelled sections in relation to the rest of the Twin Cities freeway/expressway system.
This map shows some more detail on existing and cancelled freeways within the city of Minneapolis.
This list includes existing highways that were planned to get major upgrades, yet never got those upgrades, as well as some highways that only had parts built, but not the full route. If you have any questions or comments about what's on this site, or have any further info on the below routes or routes I should include, please let me know.
---
Southwest Corridor

Overview
Fictional Exit List
Map detailing what the MN 7/MN 41 interchange might have become
---
Como Ave/Lexington Ave

Overview
Fictional Exit List
---
Wayzata Blvd

Overview
Fictional Exit List
---
?

Pierce Butler Route

Overview
Fictional Exit List
---
Cedar Ave
---
North St. Paul

Overview
Fictional Exit List
---
Chaska/Chanhassan

Overview
Map showing what MN 41 might have looked like today
---
140th St/150th St

Overview
Fictional Exit List
---
University Ave NE

Overview
Fictional Exit List
---
Ayd Mill Rd/Snelling Ave

Overview
Fictional Exit List
---
Dakota County

Overview
Fictional Exit List
---
West Broadway

Overview
Fictional Exit List
---
Olson Memorial Highway

Overview
Fictional Exit List
---
Hiawatha Ave/Dakota County

Overview
Fictional Exit List
---
Dakota County

Overview
Fictional Exit List
---
Edgerton Expressway/Arcade St

Overview
Fictional Exit List
---
Crosstown Expressway

Overview
Fictional Exit List
---
Central Ave NE

Overview
Fictional Exit List
---
Mendota Heights

Overview
Fictional Exit List
---
28th St Expressway

Overview
Fictional Exit List
---
North Loop

Map of last-known plan for I-335, ca. mid-70s
---
?

North Crosstown

Overview
Fictional Exit List
---
?

Cleveland Ave

Overview
Fictional Exit List
Page last modified 31 May, 2004